Celebrations at Cardiff Mansion House to mark Commonwealth Day 2020
March 9, 2020 @ 8:00 am

-

5:00 pm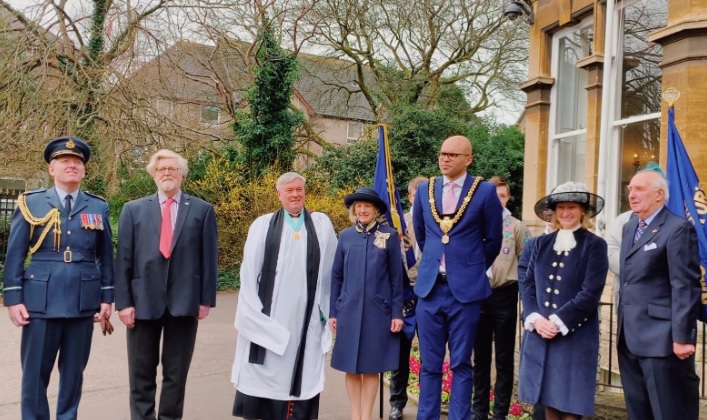 On 9th March 2020, a Commonwealth Day Flag Raising Ceremony was held at Cardiff Mansion House. It was hosted by the Lord Mayor of Cardiff, Councillor Dan De'Ath.
The Commonwealth Flag consists of a golden symbol centring on a globe. Each year on Commonwealth Day, the Royal Commonwealth Society of Wales celebrates the recognition and connection that is shared among all Commonwealth countries globally, coming together in this ceremony to hoist the flag.
"Such an event gives us the opportunity that we join together, and associate ourselves with more public expressions and appreciations of the Commonwealth," said Councillor Dan De'Ath, addressing the importance of the ceremony during his welcome speech.
The acknowledgement and appreciation of an increasingly connected world were shared among guests. This was echoed in the deliverance of Her Majesty the Queen's Commonwealth Day message by Her Majesty's Lord Lieutenant of South Glamorgan, Morfudd Meredith:
"On Commonwealth occasions, it is always inspiring to be reminded of the diversity of the people and countries that make up our worldwide family."
The participants and guests of the ceremony ranged from students of Kings Monkton School to Armed Forces Colonels, displaying a diverse and friendly environment that embodies the spirit of the Commonwealth. Boyd Clack, the patron of the Royal Commonwealth Society of Wales was present and gave a heartfelt speech before the hoist of the flag. A team of five international students from the School of Journalism, Media and Culture at Cardiff University were also invited to celebrate the event.
Reverend Canon Stewart Lisk delivered a prayer for peace in our communities and the world, addressing the difficult situation posed by COVID-19, "We also pray particularly today, for those who are anxious as a result of the COVID-19 virus in many places of our world." He called for people to show unity and kindness for one another in a challenging time.