The Queen's Commonwealth Canopy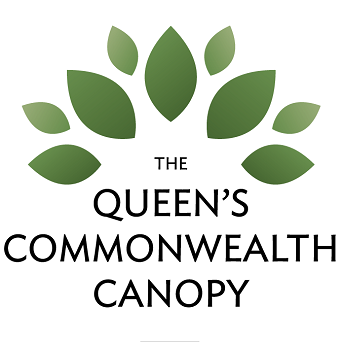 On 15 November 2016, Her Majesty The Queen, accompanied by His Royal Highness The Duke of Edinburgh, hosted a Reception at Buckingham Palace to acknowledge the dedications from 20 countries across the Commonwealth to The Queen's Commonwealth Canopy (QCC).
The Reception was attended by high-profile guests including Sir David Attenborough, Secretary of State for Foreign & Commonwealth Affairs, Boris Johnson, and the Deputy Prime Minister of Saint Kitts and Nevis, Shawn Richards.
HM the Queen with Sir David Attenborough and Lalatiana Accouche, Principle Counsellor of the High Commission of the Seychelles, discussing the Seychelles QCC commitment to plant 20,000 trees on Mahe Island.
The Queen's Commonwealth Canopy (QCC) was launched at the Commonwealth Heads of Government Meeting in Malta, in 2015. The QCC is a project designed to create a network of forest conservation initiatives throughout the 53 nations of the Commonwealth to mark Her Majesty The Queen's service and dedication as Head of the Commonwealth.
Key Objectives
The QCC is committed to raising awareness within the Commonwealth of the value of indigenous forests and to saving them for future generations.
It will create a unique network of forest conservation projects that brings collective credibility and integrity to individual Commonwealth initiatives.
It will raise the profile of the Commonwealth, demonstrating the capacity of its 53 member countries to act together as one to ensure forest conservation.
It will use the Commonwealth network to facilitate a programme of knowledge exchange activities, to share best practice and to create new, collaborative initiatives that contribute to forest conservation across the globe.
For more information Visit the Queens Commonwealth Canopy website.
Together our forests will thrive
Every Commonwealth country has the opportunity to participate in the QCC by nominating and dedicating existing or future conservation projects that meet with the broad objectives of the initiative.
Those countries with limited forest cover will also have the opportunity to participate through the planting of native trees, the conservation of other indigenous vegetation, or by supporting QCC partnerships with fellow Commonwealth members.
Cost-free commitment
A major advantage of the QCC is its utilisation of existing forestry resources and projects throughout the Commonwealth. Participation is free and comes without regulatory obligations for accredited projects. In fact, we believe helping to save the earth, shouldn't cost the earth.
The QCC is led by the RCS in partnership with Cool Earth, an award winning UK-based charity that works alongside indigenous villages to halt rainforest destruction, and
The Commonwealth Forestry Association, which links foresters, scientists, students and policy-makers throughout the Commonwealth to seek ways of wise forest management.